BLOODSTAINED: RITUAL OF THE NIGHT – ГОТИЧЕСКАЯ ЭКНШ-ХОРРОР-RPG С ВИДОМ СБОКУ В АТМОСФЕРЕ АНГЛИИ XVIII ВЕКА. СВЕРХЪЕСТЕСТВЕННАЯ СИЛА ПОРОДИЛА КИШАЩИЙ ДЕМОНАМИ ЗАМОК И ОСКОЛКИ КРИСТАЛЛОВ, НАДЕЛЕННЫЕ НЕВЕРОЯТНОЙ МАГИЧЕСКОЙ СИЛОЙ.
ИГРАЙТЕ ЗА МИРИАМ, СИРОТУ, СТАВШУЮ ЖЕРТВОЙ АЛХИМИЧЕСКОГО ПРОКЛЯТИЯ, ИЗ-ЗА КОТОРОГО ЕЕ ТЕЛО МЕДЛЕННО ПРЕВРАЩАЕТСЯ В КРИСТАЛЛ. ЧТОБЫ СПАСТИ ЧЕЛОВЕЧЕСТВО, А ЗАОДНО И СЕБЯ, МИРИАМ ДОЛЖНА ПРОБИТЬСЯ ЧЕРЕЗ ЗАМОК И ПОБЕДИТЬ ПРИЗЫВАТЕЛЯ ДЖИБЕЛЯ.
НОВОЕ ПРОЧТЕНИЕ ЖАНРА IGAVANIA ОТ КОДЗИ ИГАРАШИ: СОБИРАЙТЕ, СОЗДАВАЙТЕ И ОТКРЫВАЙТЕ НОВЫЕ ВИДЫ ОРУЖИЯ, СНАРЯЖЕНИЯ И ДОБЫЧИ И ПОБЕЖДАЙТЕ ПОЛЧИЩА СЛУГ АДА И ЖУТКИХ БОССОВ!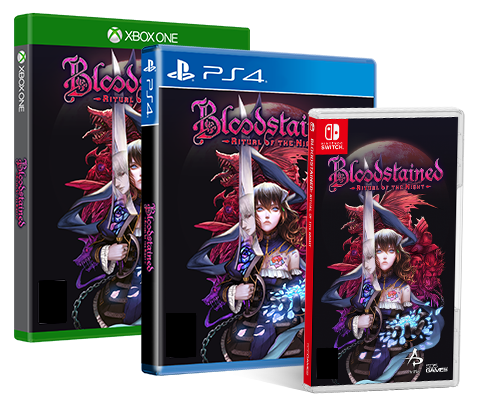 ПРИ ЗАПУСКЕ
Крупнейшая Igavania В ИСТОРИИ
Куча оружия, заклинаний и снаряжения
Содавайте, готовьте и улучшайте
Полная настройка внешнего вида
Звездные актеры озвучания (Дэвид Хайтер!)
Саундтрек от Мичиру Ямане с оркестром
Увлекательный сюжет с альтернативными концовками
новая игра плюс
сложность кошмара
ретро уровень
БЕСПЛАТНО ПОСЛЕ ЗАПУСКА
Режим «Забег»
Наряд «Чистая Мириам»
Режим «Только боссы»
Совместный режим (местный и по сети) и режим схватки
Режим Roguelike
2 бонусных игровых персонажа
Режим «Хаос»
Классический режим
Режим «Месть босса»
купить сейчас