Hello, Army of the Night! 
We have updated our Development Roadmap though the first quarter of 2021. The new schedule kicks off (likely) next week with the surprise release of Bloodless as a playable character and improvements to Randomizer.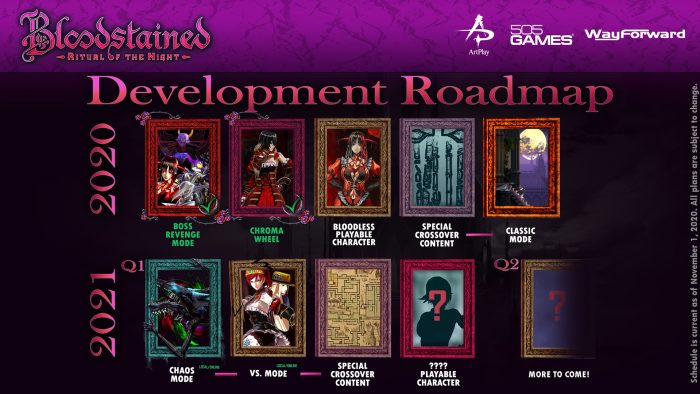 When you compare the new Roadmap with the previous one, you'll see that several modes are now planned for the first quarter of 2021. We are still expecting the Crossover Content and Classic Mode to launch in November for all platforms except for Switch, which will drop in December. This change gives us more development time on Chaos and Vs Modes.  
As always, the Roadmap is subject to change. We will always let the community know whenever the schedule adjusts.  
Due to the change in the Roadmap, we thought it would be a nice bonus for the community to release Bloodless as a playable character! We should point out that Bloodless is an additional playable character. She does not replace the "???? playable character" that you see on the Roadmap.  
Along with Bloodless, the next update includes a number of positive improvements for Randomizer. New behind-the-scenes 'safety chests' will ensure that items critical to completing a seed will be available. Additionally, the algorithm has been further updated to ensure generated seeds can be completed.  
That's it for now.  
Thanks for playing Bloodstained: Ritual of the Night!